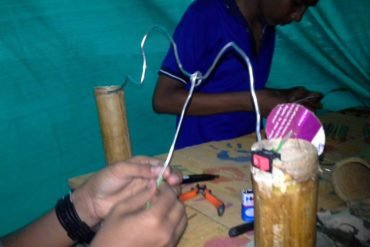 Nook: Avalahalli, JP Nagar
Learner Name:  Niah (not real name)
Month & Year of Story: January 2020
Avalahalli village, a part of JP Nagar, is a rather marginalized community that developed out of a former slum area. Many residents struggle to make ends meet through precarious labour and low-paying jobs as the only employment opportunities while increasing unemployment is an ever-bigger problem. Added to this is a very conservative ethos in the local community which often relegates women to a life in the confines of the family home and where domestic violence is unfortunately not uncommon. 
This is the context in which 33-years old Nook Learner Niah fights to determine her own future. Leaving school after 12th Standard and getting married early in life, she moved to Avalahalli where she now lives with her husband, a truck driver, her two sons, and her father- and mother-in-law. "my husband and in-laws are very strict. They said that I should be at home doing household work only. At the same time, they call me 'useless.' When they restrict me from doing anything and call me useless at the same time, I feel very bad about myself and it's not fair," the brave woman says.
When Niah came to the Nook for the first time, she did not think that she herself would become an active Learner at the Nook and an important part of the growing Nook Community: "actually, I was taking my sons to the Nook. When I was there, I realized that it's not only a place for children. I can do something for myself here again. That's why I keep on coming to the Nook. I have finally found a place that allows me to explore the options of what I want to do in life rather than telling me what all I can't do," she says.
For  Niah, this means to explore many new areas and skills she could not pursue and learn before. Learning basic computer skills and how to navigate online and find information and ideas gave her a whole new perspective on life. Learning how to create and access an email account also helped Niah to connect with her family: "I am surprised about what the laptop and internet can do in this world. Now I can send emails to my relatives who live outside the country," she says.   
Realising her own potential and that she is able to achieve whatever she wants to do in life, Niah
now comes almost daily to the Nook in order to learn English language, how to use Excel and the basics of accounting in order to find a job and become more independent – and this all against the continuing restrictions and resistance of her family-in-law: "I started to speak English, learn how to use different software and gained confidence in speaking with other people. The Nook opens my mind and changes the way how I think. It is the place where I can express my identity and be myself.  Now I can figure out for myself what I want to do in life. I experienced a different world from being a housewife. I am curious and excited about many things."
This shows the immense meaning and importance that the Avalahalli Nook holds for  Niah and many more women like her. 
Please Note: We used a different name to protect the learner from any lash back that comes from sharing her story.