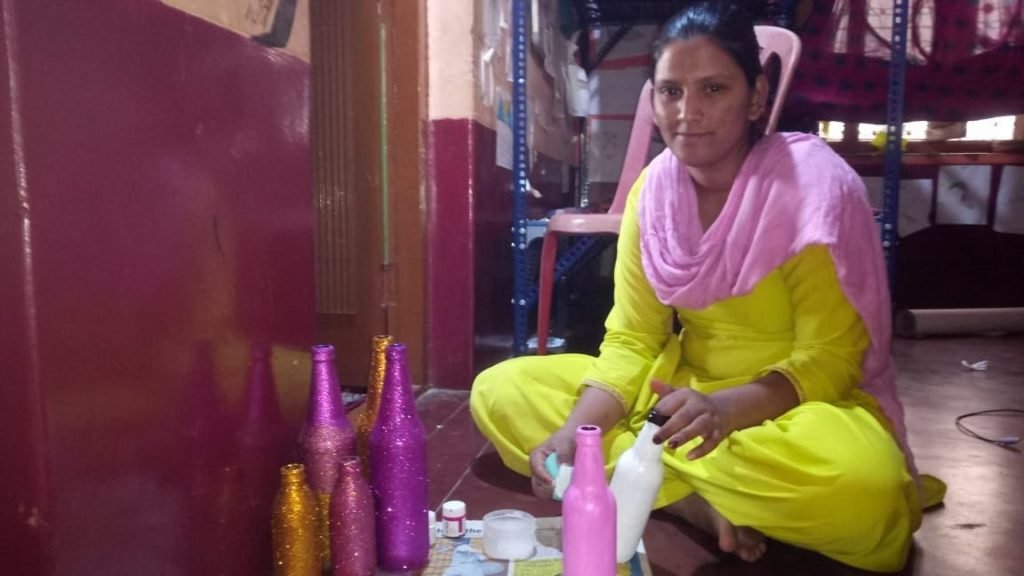 Nook: Kaggalipura
Learner Name: Muskan
Month & Year of Story: February 2020
19-years old Muskan joined the Kaggalipura Nook in 2018. For about two years, the young woman comes to the Nook on a regular basis to access computers and the internet and learn new, relevant skills: "there is no other place which allows me to access laptops and the internet for free. Here for the first time in my life, I can do this, and through this, I can acquire new knowledge and skills across different areas according to my own interests," she says.
Leaving school after 11th grade as she lost interest in learning about things that seemed far away and irrelevant to her own life, Muskan joined the Nook to use the internet as a tool to explore many different areas and skills ranging from cooking to singing, dancing, arts and crafts, and tailoring. She is also particularly interested in recycling waste materials to create decorative household items.
Currently, the young woman is engaged in making bottle art – reusing empty bottles for creative arts design – and tailoring. As her rather conservative community does not accept women working outside the home, Muskan aims to learn professional tailoring skills in order to start a home-based business to earn her own money and to gradually become more independent. 
For Muskan, the Nook serves as a platform to explore her own interests and acquire skills and knowledge relevant to her own life. She says that "the Nook is providing me all the necessary things to learn. Here I can enhance my knowledge in many different areas. For me, the Nook is the place where we can explore our inner talent."