Facebook Live- Nooks as Community Learning Spaces in Rural Meghalaya
Our latest Nook at Sohrarim in Meghalaya has been garnering a lot of attention (for the right reasons ofcourse!). So we decided to decode things in our upcoming Facebook Live with Nagakarthik Mp, Founder, Sauramandala Foundation, our partners for the Sohrarim Nook.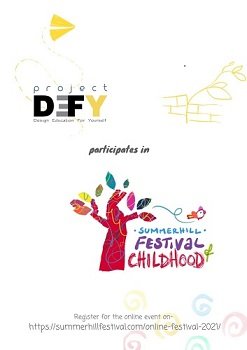 Summer Hill Festival x Project DEFY
As a part of the Online Summer hill Festival of Childhood 2021, Project DEFY would be conducting some talks on Reimagining Education, exploring how we go back to the basics of choice, creativity and accountability to young people and workshops on discovering poetry in everyday things and activities, and the dormant poet in us, amongst other things.